Despite not having posted for a wea small time, the lovely
Kani
has given me an award for my blog. I love Kani's blog and she has a great eye for thrifty finds so this award is a huge compliment, thankyou =)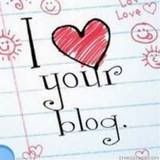 In return I'd like to pass this award on to some of my favourite blogs...

Tune into Radio Carly
Carly is a great writer and discusses lots of interesting topics on her blog.
Clothed Much
I love Elaine's blog because she proves that you don't need a lot of money or a huge wardrobe to look incredibly fashionable, which is a philosophy I've held for a long time.
Kendi Everyday
I love the writing that accompanies Kendi's posts but most of all her outfits!! At the moment she's currently remixing 30 outfits from 30 pre-selected items of clothing which again fits in with the minimalist wardrobe theme.
Our Tea Party
I'm so glad Penelope re-opened her blog as I love reading about her nifty finds. She has a cute etsy shop which you should check out as well.
Remade in Melbourne
Hayley writes about mindfulness and ethical living which I find really inspiring. She's also written a great series of posts on personal style which is definitely worth having a read of.
I'd also like to welcome all the new readers to my blog as I've noticed a steady increase since Kani's kind link. I really do try to post as often as I can and although that hadn't been for a couple months up until now it was mainly due to undertaking close to a four month field placement for uni. I appreciate all the readers who have continued to follow my blog regardless of my sporadic posting! To prove I haven't been completely slack here's a taste of one of my recent finds at a new op shop I discovered while on placement.
I found this sheer floral blouse for $6. I love the way it flows and I think the colours suit me really well. Can't wait for the weather to warm up (but not too much!) so I can wear it more.